Great photos are taken with creativity, heart and imagination.

M W is based on this simple believe.
M W is a Jakarta-based photography and videography company, specialising in Architecture, Interior & Aerial. We serve local and international projects. Our works have been published in various local and international media, such as books, magazines, and websites. We can make your works known to the world!
Why you should hire us ?
Who we are
M W is a team consisted of photographers with degree in Architecture,working in conjunction to complement each other's styles and approaches in capturing moods and moments of built works and designs.
We're not just photographers, we are professional photographers who love architecture and aim to help clients introducing their works through photography.
How We Work
We hold our work to a high standard. We have worked through tons of technically challenging situations,because our works basically depend on both natural and artificial lighting conditions that give different vibes and moods of built works.
From dawn to dusk, we capture each and every moments at different times and under different weather in a way that is both aesthetic and accurate to the intentions of the original designs.
The ability to deliver the effectiveness of natural and artificial light for good captures, is the most important skill a professional architectural photographers should have. And we are confident to help you with that concept in mind, because this is also how we appreciate architecture works to the fullest.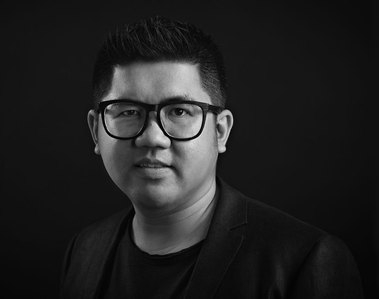 Mario Wibowo, ST. MM. ARPS
Majoring in Architecture, Mario spent 7 years in the industry,including in a well-known architecture firm in Singapore. His passion in photography and architecture, has brought him to the professional world of architectural photography. He has been awarded the title 'Associate of The Royal Photographic Society' (ARPS) from United Kingdom.
Mario developed the brand Mario Wibowo Photography (MWP) at 2012. From behind the lens, Mario helps clients to document their works, build social network, and retell their stories from different platform. His works varies from wide shot angles that capture the whole mood of the built works, to tight shot angles that focus to details and structures.
Mario was appointed as Leica Indonesia Ambassador from year 2018-2020
To date Mario has photographed more than 1000 architecture and interior projects, including hotels and resorts, malls, office towers, restaurants, high end residences in Jakarta, Bali, Singapore, Thailand, China, Middle East,Italy and London to name a few.
Achievements
Associate of Photovivo Singapore (APVS), 2008
Associate of the Photographic Society of Malaysia (APSM), 2009
Associate of The Royal Photographic Society of Great Britain (ARPS), 2010
Published work in Local & International Books & Magazine, 2012 - present
Gold Medal in Salon Fotografi Indonesia 36, 2015
Best Lighting Award in Salon Fotografi Indonesia 36, 2015
2nd place winner at Binamarga Photography Competition, 2015
5 Honorable Mentions in Zone Photography Circuit, 2016
Leica X-hibition, Jakarta, 2016
Member of World Architects, 2016
Art Stage Jakarta, 2017
Maison & Objet Paris, 2017

Lines of Inspiration - Residential Photography Exhibition - ICE BSD 2017
Lines of Inspiration - Hotel Photography Exhibition - JCC 2017
Photography Contest Judge for Indonesian Infrastructure Development Board, 2018
Leica Indonesia Ambassador, 2018 - 2020


Arquitectonica, USA
KPF, NY
TPG Architecture, NY
Mitsubishi Jisho Sekkei, Tokyo
Aedas, Singapore
SCDA, Singapore
Etho Space, Singapore

DPA, Singapore
Matrix Design, China
andramatin
Studio Air Putih
Airmas Asri
Nataneka
Genius Loci
Wahana Architects
HMP Architects
Willis Kusuma Architects
d - associates
Modernspace Design
Tan Tik Lam Architects
TSDS Interior Architects
The Metaphor
BMKK
GGS


Grand Hyatt Jakarta
Kempinski
Oakwood
Citibank
HSBC
Ciputra
Hong Kong Land
Sinar Mas Land
Gunung Sewu Kencana
Vida Bekasi
Farpoint
Intiland
Astra Property
Jakarta Setiabudi International
Danayasa Arthatama (SCBD)
AKR Land
SouthCity
Design Anthology
Habitus Living
Lifestyle Retreats
Como Hotels
Katamama Hotel
Aryaduta Hotel
Jaguar Landrover
Summarecon Serpong
Beca
The Capitol Group
Wika Realty
Multikon

Pizza Hut
BMW Pluit